By John Mullin
Practice is, as Allen Iverson would agree, is just
practice.
Except this week.
After a one-day stopover for Tuesday's practice at Halas Hall, the Bears were headed for Indianapolis for two days of practice and a Saturday game with the Colts. Inter-team practices typically extend over three days but the third day was done away with this trip for a simple reason, besides the presence of a game.
"One of the things you learn through experience is we're only going two days instead of three days," Bears head coach John Fox said. "That third day things get a little chippy, so I think part of the planning is looking at that third day. So we'll work like we did last week prior to Miami the day before the game's scheduled and we'll practice with our own team at Lucas Oil on Friday."
The mood was clearly one of looking forward to something other than seeing the same faces day after day after day in practice.
"It'll be really nice to go down to Indianapolis to echo some of the things that coach Fox was just talking about," said guard Kyle Long. "[The Colts are] a playoff team; they have the model for what it is to be successful in this league."
(That "model" probably has something to do with staffing a certain position with No. 1 overall picks (Peyton Manning, Andrew Luck) that work out at Hall of Fame levels. But that's another discussion.)
Still, "it'll be a good idea to see how they practice and how they go about their business and also get an opportunity to see some other guys in a practice setting, you know we get to practice against them twice, get to play against them Saturday, so that'll be a really good experience for a lot of the younger guys and for all of us," Long said.
The practices are scheduled for mid-afternoon Wednesday and Thursday. As recently as Monday night the two teams were still tweaking plans, including the prospect of rain, in which case half of each team will stay at the Colts' facility for practice and the other halves will be indoors at Lucas Oil. "There's been a lot of planning, yes," Fox said.
That planning includes specifically avoiding fighting, or at least the NFL wants that to be part of training-camp thinking. In the wake of the spate of fights in camps, NFL executive vice president of football operations Troy Vincent sent a memo to all 32 teams Friday reminding players that prohibiting fights during games will be a point of emphasis for officials, the Associated Press reported.
"I just think it's important to see other people, the styles of play," Fox said. "They're a playoff team from a year ago and I know their staff pretty well; they're good guys and look forward to it being competitive and yet civil."
Safety Adrian Amos garners first-rookie-starter honors for B

e

a

r

s.
By John Mullin
The hope every year is that rookies can come in and help immediately. That was certainly the now-frustrated hope for wide receiver Kevin White, but in the meantime, the honor of first-rookie-starter will go to the fifth-round safety out of Penn State.
Positions are far, far from set, but Adrian Amos becomes the first member of the 2015 draft class to crack the starting lineup based on the latest depth chart, promoted to starting safety paired with veteran Antrel Rolle while Brock Vereen, who started vs. the Miami Dolphins, moves back one step in the lineups. Amos also gets the start over veteran Ryan Mundy, who has been given look with the No. 1's, started all 16 games last season, but is working more behind Rolle as a strong safety.
Amos and Vereen each were credited with 2 solo tackles in the initial stat report, though Amos played 27 snaps to Vereen's 17. But Vereen had a costly recognition breakdown on the Miami touchdown at the end of the Dolphins' first drive, and Amos has been solid through the past handful of practices after acquitting himself well in the game.
The last time a rookie started at safety Week 1 for the Bears was 2009 (Al Afalava).
"I like the scheme. At Penn State I had four different schemes, so it's a little bit of each one I can bring into this," Amos said. "The defenses match up for what we did at Penn State… . I'm learning more and more about the safety position, and I'm getting better every single day playing safety."
Given that last year was Amos' first ever playing at safety, "upside" seems an appropriate descriptor.
Loss' of Kevin White affects one B

e

a

r

in particular: Jay Cutler.
By John Mullin
The "loss" of Kevin White, if you can actually be said to lose something you never had, will have obvious ripple effects, both during his absence and even when/if he returns this season, since he will be far back on any learning curve for rookie wide receivers.
The all-too-obvious upshot is the underscoring of the importance of offensive coordinator Adam Gase making good his and John Fox's stated commitment to running the football. That was going to happen anyway, but consider it a survival skill now, with simple things like a return to health of the offensive line and someone to share the carries load with Matt Forte.
But for any of that to work at all starts with one simple thing from one often not-so-simple Bear: Jay Cutler.
The absolute focus this offseason has been cutting into Cutler's career-defining propensity for turnovers. That's why his near-interception-free training camp has been of more than just amusing interest.
Because without White, the Bears lose their projected best home run threat, meaning they become less able to play from behind, which is where Cutler interceptions will help put them. And it puts a still-forming defense on a short field, which it absolutely cannot afford.
Cutler played his best football – 17-8 regular season – in a stretch from 2010 through the 7-3 start in 2011, when Mike Martz trimmed Cutler's decision-making. Cutler ultimately clashed with Martz but the formula, with the Bears running more than 44 percent of the time in 2011 worked. And more than a little coincidentally, it worked because Cutler was on the way to the lowest interception percentage (2.2 percent) of his career.
The Bears don't need the cliché'd gunslinger; they need a game manager, more than ever. Besides tight end Martellus Bennett, Cutler will be working with just two starter-grade wide receivers - Alshon Jeffery, Eddie Royal - and if the Bears muscle up run blocking with an extra tight end, Cutler will be working with second-tier talents there as well.
Be in no doubt as to the importance of how Cutler fares over three days (two practices, one game) against the Indianapolis Colts. The Bears aren't.
"When we get to practice against Indy, that's a whole different animal," Gase said. "Now you're going against those guys twice and then playing in a preseason game. All that's good development for us, to see where we're at, so we have a better idea when we head into that first game of who we are, of what we need to be, how we want to play. And to see where [Cutler's] growth is overall in the next five weeks."
Sherrick McManis trying to graduate above 'special teams ace' with B

e

a

r

s.
By Tony Andracki
As the Bears completely re-work their defense, Sherrick McManis is hoping he can ditch the "special teams ace" label.
McManis is a 27-year-old product of Northwestern and has been relegated mostly to special teams duty in his career, with only one start in five seasons.
McManis got a chance to show what he can do in the Bears' preseason opener Thursday night at Soldier Field, leading the team with four tackles and adding a pass breakup, but it was his big play in the third quarter that turned the tide of the game.
McManis chased down Dolphins running back Mike Gillislee from behind and stripped the ball, then hustled down and recovered it to set up a field goal in the eventual 27-10 Bears victory.
McManis has recorded just one pass breakup in his three seasons in Chicago, but he saw some time at both the nickel and as a backup cornerback Thursday and he believes he showed Fox and the Bears coaching staff what he can do all over the field.
With the shift in the NFL to a passing league and so many three wide receiver sets, the Bears are in a nickel defense more than 50 percent of the time, meaning there is a serious need for at least three good corners on the depth chart.
"Me working at nickel as well as corner today was a great opportunity for me to see where I'm at when the bullets really get flying," he said.
First-year Bears head coach John Fox liked what he saw.
"He's a competitive young guy," Fox said after the game. "He's a guy who made his name in this league as a special teams ace - so have a lot of great defensive players in our history.
"I always like it when a young man competes. ... He's a guy we like that had a good game."
McManis had nine interceptions and forced four fumbles during his career at Northwestern, breaking up 38 passes and recording 201 tackles.
He hopes he can work toward making an impact like that on the Bears defense instead of just playing special teams.
"I'm very determined [to get more playing time on defense]," he said. "I'm determined like this every year, honestly. Just to be out there trying to compete, do my special teams thing, and also to show them that I can play corner, or that I can play nickel. Just to help the team in any way that I can.
"It's about getting opportunities and capitalizing on those opportunities, making plays, just competing and trying to get better."
Former

N

F

L players object to concussion settlement.
By Jonathan Stempel; Editing by Lisa Von Ahn and Alan Crosby
A football helmet's health warning sticker is pictured between a U.S. flag and the number 55, in memory of former student and NFL player Junior Seau, as the Oceanside Pirates high school football team prepares for their Friday night game in Oceanside, California September 14, 2012. (REUTERS Photo//Mike Blake)
Former National Football League players who oppose the league's potential $1 billion settlement of lawsuits claiming it hid the risk of concussions on Monday asked a federal appeals court to throw out the accord.
In a filing with the 3rd U.S. Circuit Court of Appeals in Philadelphia, 10 former players said the settlement covering more than 5,000 retirees was unfair because it excluded players yet to be diagnosed with chronic traumatic encephalopathy, a degenerative condition linked to repeated blows to the head.
These players, including five-time Pro Bowl defensive lineman Fred Smerlas, said the settlement unfairly favored currently injured retirees over those merely exposed to head trauma, and left a potential 19,000 players who have yet to be diagnosed with neurological diseases without a remedy.
"It is the height of hypocrisy for the parties to defend a settlement that offers nothing for CTE to the vast majority of class members by arguing that those claims could not prevail at trial because the science is too new," lawyer John Pentz wrote for the objecting players.
Monday was the deadline to object to the settlement. As many as a dozen appeals were expected, covering about 90 retirees including Hall of Fame linebacker and defensive end Charles Haley and Pro Bowl guards Alan Faneca and Nate Newton.
The settlement was approved on April 22 by U.S. District Judge Anita Brody in Philadelphia.
By Josh Cooper
He did not file for salary arbitration in hopes of negotiating a long term deal with the Hawks.
It seems that Kruger has backed off the longer-term deal demands and may be willing to settle for a short-term contract per the story.
B
l
a
c
k
h
a
w
k
s
: Phillip Danault out several months with hip injury.
By C. Roumeliotis
Blackhawks prospect Phillip Danault is expected to miss several months after undergoing hip surgery, the team announced Tuesday.
"Yesterday, Blackhawks forward Phillip Danault underwent left hip arthroscopy performed by Dr. Bryan Kelly in New York City to repair a torn labrum. Danault is expected to be out of hockey-related activity for approximately four months," said Blackhawks Head Team Physician Dr. Michael Terry.
It's a tough blow for Danault, who appeared to be one of the favorites from a crowded group to crack a roster spot entering training camp in September. The 22-year-old two-way center
who models his game after Marcus Kruger
got a small taste of the NHL action last year, playing in two games with the Blackhawks, and was looking to stay for good this season.
Now, his path to the NHL has been put on hold.
Danault has spent the last two seasons in the AHL, where he helped guide the Rockford IceHogs to the Calder Cup Playoffs in 2014-15.
The former first-round pick in 2011 compiled 38 points (13 goals, 25 assists) in 70 regular-season games last year, and added three goals and two assists in eight postseason contests. His plus-8 rating in the playoffs also led the team.
Danault is in the final year of his entry-level contract.
J
ust Another
Chicago
B
u
l
l
s
Session...
Noah 'ready to rumble', grateful to help kids at shopping spree.
By Vincent Goodwill
Nobody liked watching Joakim Noah hobble around last season more than Noah himself, as he followed up a top-5 MVP finish with arguably his most disappointing as a pro.
But just as spring brings hope for baseball players, the summer does wonders for injured basketball players given the requisite time to rest and recover from the wear and tear of previous seasons.
"I think it's gonna be great. I'm really excited. I'm healthy," said Noah at his back-to-school giveaway at the Footlocker on State Street downtown, through his Noah's Arc Foundation. "Haven't felt healthy in a long time. I'm really excited for the coming year. It's gonna be a lot of ball movement. I'm just really excited to come in and prove myself."
"I'm moving a lot better. I feel strong. I'm ready to rumble. I think last year was a tough year for us. Sometimes humbling is good."
Playing 67 games, his scoring averaged dipped nearly by half (12.6 to 7.2), his assists and rebounds took a modest downturn and his defensive rating raised above 100 points allowed per 100 possessions (102) for the first time since the 2009-10 season, the last before Tom Thibodeau took over. A knee surgery after the 2014 playoffs took a longer time to recover from, resulting in the medical staff and management placing a minutes' restriction on the center—creating a mini-controversy between the front office and Thibodeau.
"Injuries (stink)," said Noah, using a more colorful word. "When you're an athlete you want to feel good. Sometimes you take your health for granted. It definitely put a lot on things in perspective for me. And now I'm a lot more focused. Very excited for what's coming."
Returning virtually the same roster with the exception of rookie Bobby Portis and a new coach, the humbling loss at the hands of the Cleveland Cavaliers in the second round doesn't diminish much of his confidence.
Many believed he could be the odd man out as far as personnel moves from management, but the Bulls want to take another go at it with this core.
"I think continuity is gonna be great for us," Noah said. "Even though it's the same group, it's still gonna be change at the leadership role as far as coaching. So it's gonna be very different. So having the same team brings stability as well."
As was his excitement for the coming season with new coach Fred Hoiberg, who visited him in California after being hired shortly following Thibodeau's ouster, was his giddiness for helping the kids as part of his foundation. Dozens ran through the Footlocker and Kids Footlocker as part of his back to school shopping spree, giving Noah a huge level of satisfaction.
"It's a blessing," Noah said. "To be able to do this, bring some kids to the footlocker, thanks to footlocker for doing this and it's just cool to put a smile on those kids faces."
"I think that it's important to use your platform and to be able to do some positive things. Feels good to have nice clothes and nice shoes going into the school. It's good to keep the kids as active as possible through our foundation with after school programs. Chicago's been good to me so I'll try to help out."
Noah has been outspoken about quelling the gun violence that has raged rampant through the city, which has senselessly taken too many Chicago youths. He's produced documentaries and raised awareness, leading to being awarded the J. Walter Kennedy Citizenship Award for his dedication to the Chicago community.
Seeing the maturity of the kids impacted by his foundation is a level of satisfaction unmet by many others.
"To me that's the best feeling, just knowing I have a relationship with some of these kids, I've seen them grow," Noah said. "I've been working at this community center for four years now. So watching them grow up and seeing them take leadership roles. For the younger kids, some of them started off playing in the leagues and now they're coaching. I'm really excited about it. Being with a franchise for nine years I'm able to do things like this. So it feels great."
Toni Kukoc accepts advising role with
B
u
l
l
s
.
By Mark Strotman
Kukoc will join Scottie Pippen, who has held the same position since the beginning of the 2012-13 season.
"Toni will work across the organization and his duties will be wide-ranging," Reinsdorf said in a press release. "He will bring valuable perspective that comes with experience to many areas, whether it is relating to the international players on our team or sharing what it means to be a Chicago Bull when talking to partners and fans.
"Toni will be a strong representative of both the team's legacy and its future."
Kukoc played seven seasons with the Bulls, most notably as the sixth man of the Bulls' three championship teams from 1996 to 1998. He won' the NBA's Sixth Man of the Year in 1996 and has been a frequent visitor to the United Center since he retired in 2006 and resides in Illinois.
"It is a thrill and an honor to again be a part of the team that helped define my basketball career here in the United States and in Chicago," he said in a press release. "The Bulls have become my extended family, and I am really looking forward to the future and being a Bull for life."
Jason Hammel searching for answers after Tigers overpower Cubs.
By Patrick Mooney
Jason Hammel sat down with pitching coach Chris Bosio during the rain delay and watched video, trying to break down what went wrong during a season that's gone so right for the Cubs (so far).
"It's one of those nights where it seemed like they knew what was coming," Hammel said after a 10-8 loss that saw the Detroit Tigers generate 19 hits as Tuesday night turned into Wednesday morning.
Wrigley Field had gotten loud and felt like a playoff atmosphere. For a moment, it became hard to tell which team recently fired its general manager, traded away its best pitcher and started to play for the future.
Dave Dombrowski is now running baseball operations for the Boston Red Sox, David Price is pitching for the Toronto Blue Jays and the Tigers aren't the same monster team that won four division titles in a row.
But for all the optimism on the North Side, the Cubs (67-50) haven't accomplished anything close to that run yet. They absolutely need Hammel if they're going to catch the Pittsburgh Pirates, hold off the San Francisco Giants and play deep into October.
"It's unacceptable right now," Hammel said. "We're in the middle of something special."
The Cubs still hold the second wild-card position, running three games behind the Pirates and three games in front of the Giants in what should be six-plus weeks of dramatic, meaningful baseball.
Detroit (57-61) hit Hammel hard in the first inning, almost drilling back-to-back-to-back homers – Miguel Cabrera's line drive to left field became a ground-rule double after a replay review showed fan interference – and that started the "Let's go Tigers!" chants.
Hammel put the Cubs in a 3-0 deficit and then gave up a two-run homer to Anthony Gose in the second inning, creating more questions about Joe Maddon's quick hook, last month's hamstring injury and the potential for a stretch-run fade after a first half that approached an All-Star level.
Maddon allowed Hammel to throw only 65 pitches in his last outing, and the manager pulled the veteran right-hander after four-plus innings in the start before that. The Cubs wound up winning both those games and going on a nine-game winning streak.
This time, Mother Nature made the decision for Maddon with a tornado watch, a flash flood warning and a rain delay that started in the third inning and lasted two hours and 17 minutes.
Maddon said Hammel is healthy, the velocity is there and the stuff is good: "He's trying like way too hard."
"I've probably been out of sync for the last few starts, but physically I feel fine," Hammel said. "For whatever reason, mechanically, execution-wise, I'm not getting the ball down in the zone the way I did before. We'll go back to the drawing board.
"Effort-wise, I don't feel like I'm doing anything different. I'm not trying to overthrow. Sometimes, less is more. It's disappointing to go out there and have good stuff – like I did tonight – and just kind of get hit around the yard."
The Tigers wound up beating Pedro Strop with finesse in the eighth inning. With Bob Costas up in the Wrigley Field press box calling the game for MLB Network, Detroit bunted for two singles before Strop walked Cabrera and J.D. Martinez drove in the go-ahead run with a sacrifice fly to center field.
The crowd of 39,684 had almost disappeared by then, with wide stretches of empty green seats throughout the ballpark. Strop intentionally walked pinch-hitter Victor Martinez before Nick Castellanos lifted a soft single into shallow right field to score two more runs.
The Cubs are supposed to be the rising power now and believe they can play with anyone. That starts with pitching.
"I don't want anybody to change anything right now," Maddon said. "I promise you, I mean that sincerely: There's nothing I would change about our guys right now. Some have met adversity and fought through it. Others have been there, done that before and they understand how to do it."
Early homers doom John Danks,
White Sox
in loss to Angels.
By Dan Hayes
John Danks surrendered a pair of first-inning homers on Tuesday night and the White Sox never recovered.
Kole Calhoun and Albert Pujols went deep early and the White Sox lost 5-3 to the Los Angeles Angels at Angel Stadium. Danks allowed five runs (four earned) and five hits in seven innings as the White Sox lost for the fourth time in five tries.
The White Sox battled back and even brought the tying run to the plate in the eighth inning in Jose Abreu. But reliever Joe Smith induced an inning-ending groundout with a man aboard to keep Los Angeles ahead by two.
Alexei Ramirez and Adam Eaton both had RBIs and Abreu, who went 3-for-4, doubled in a run as well.
Danks hit Shane Victorino to start the game and Calhoun followed with a massive, two-run homer to center to give the Angels a 2-0 lead. With one out, Pujols hammered a 0-1 curveball for his 33rd homer and a three-run lead.
The Angels added a run in the fourth on a Tyler Saladino throwing error. Victorino's RBI infield single in the seventh regained a three-run lead for Los Angeles.
Garrett Richards allowed three runs (two earned) in seven-plus innings for the Angels. Smith and Huston Street followed with scoreless innings to close out the contest.
Golf: I got a club for that.....
Jason Day win confirms change of the guard.
Reuters;
By
Mark Lamport-Stokes, Editing by Andrew Both
By Nick Bromberg
1.
Kevin Harvick
(LW: 3)
:
Matt Kenseth
is the trendy pick here, but Harvick, the master of second place and the master of not saying anything after the race that would be considered criticism of NASCAR, gets the top spot because he was a spot ahead of Kenseth last week. Do you think we'll be able to talk about Sunday's snoozer of a race for the entirety of this Power Rankings column? Let's find out.
2
.
Matt Kenseth
(LW: 4):
Despite being off for the weekend, we watched the final 120 laps from the comfort of the waiting area at an airport gate (thanks, free WiFi!). Boy, was Kenseth good. That car was incredibly fast and no one was going to get a chance to challenge him. While the No. 20 team has to be proud of the super-bad-fast car it built, they're probably wishing it wasn't a one-off race when it came to the rules.
3.
Kyle Busch
(LW: 1):
Busch finished 11th after starting from the back with a backup car. He sliced his way through the field on a day where people couldn't pass. While 11th seems like a bad day given Busch's recent run of form, every week he avoids a bad finish is a win. And he should be good at Bristol. How crazy would it be if he takes sole possession of the Sprint Cup Series wins lead on Saturday night?
4.
Joey Logano
(LW: 2):
Logano finished seventh.
On Monday morning on SiriusXM,
NASCAR Vice President Steve O'Donnell admitted that the aero tweaks made at Michigan – we are absolutely sick of typing "package" and are looking for any and all synonyms to replace it – and would make adjustments. O'Donnell did call Kentucky a success, which was good to hear. Hopefully Darlington gets some more rave reviews, because if NASCAR is going to make changes for 2016, it's pretty obvious that the Michigan and Indy changes aren't the way to go.
5.
Martin Truex Jr.
(LW: 9):
NASCAR announced last week that there would be no more rules tweaks for the Chase and the rules that were in place at the beginning of the season when it comes to tech specs would be the rules for the Chase. In no other sport is "Rules don't change for playoffs" a headline, but we all know that NASCAR is not like any of the other sports. A driver who is happy about that is Truex, because his team has figured out the 2015 rules as well as anyone. He finished third at Michigan.
Danica Patrick
is staying at Stewart-Haas Racing. And she's got a replacement for her current sponsor, GoDaddy.
Nature's Bakery will be Patrick's primary sponsor in 2016. The company will sponsor 28 races after GoDaddy
announced earlier this year
that it was leaving Patrick's No. 10 car at the conclusion of the 2015 season. Nature's Bakery is a "snacks and food brand that supports health conscious living and active lifestyles with our 4 pinnacles of achieving balance - nature, activity, nutrition and community."
According to team co-owner
Tony Stewart
, Patrick's contract extension is a "multi-year" agreement. Teams generally line up driver and contract sponsorships so they can be reworked at the same time.
U.

S.

Soccer learns group opponents for October's Olympic qualifying tournament.
By Nicholas Mendola
U.S. Soccer learned its path to the 2016 Olympics in Brazil, and it won't be easy.
Group play for Olympic qualifying is slated for Oct. 1-6, and the Yanks' U-23 side will face Canada, Cuba and Panama in Group A.
The States play Canada on Oct. 1 and Cuba on Oct. 3, with both games at LiveStrong Park in Kansas City, Kansas, before a power match-up with Panama on Oct. 6 in Colorado.
Here are the thoughts of U.S. boss Andi Herzog, courtesy U.S. Soccer:
"Now we know what's ahead of us," head coach Andi Herzog said. "It's an interesting group and strong group and we want to win and advance. Canada we've looked at and we know they have some strong players in MLS. Panama is also strong and Cuba, we saw this summer in the Gold Cup, has some young players we expect to face in this tournament. In the end it's an interesting group and we're excited."
It's a tough bunch, especially given some of the young talent on each roster. In Canada's case, for example, some of its best and brightest (See: Larin, Cyle) can fit on the U-23 roster. It'll be supremely interesting to see which overage players are chosen for Herzog's unit.
Of course, the Yanks under Caleb Porter 2012 failed to make the 2012 Olympics. Porter's unit lost to Canada, beat Cuba and drew El Salvador, unable to progress from group play.
Group B finds Mexico, Honduras, Haiti, and the winner of the UNCAF playoff between Costa Rica and Guatemala. The top two teams in each group move onto the semifinals. Both finalists will go to the Olympics, while the winner of the third-place game with face Colombia for CONCACAF's final spot in Brazil.
Full USA Group A Schedule
:
Oct. 1
– USA vs. Canada,
8 p.m. CT
, Sporting Park, Kansas City, Kan.
Oct. 3
– USA vs. Cuba,
4 p.m. CT
, Sporting Park, Kansas City, Kan.
Oct. 6
– USA vs. Panama,
7:30 p.m. MT
, Dick's Sporting Goods Park, Commerce City, Colo.
Oct. 10
Semi-Finals,
2 p.m. and 5 p.m. MT
, Rio Tinto Stadium, Sandy, Utah
Oct. 13 Third Place Game,
5 p.m. MT
, Rio Tinto Stadium, Sandy, Utah
Oct. 13
Final,
5 p.m. MT
, Rio Tinto Stadium, Sandy, Utah
CSKA Moscow and Club Brugge both scored on the road, but both also lost on Tuesday. And Bayer Leverkusen, Partizan Belgrade and APOEL Nicosia find themselves down 1-0 after 90 road minutes.
Here are your quick recaps:
Manchester United 3-1 Club Brugge
—
RECAP
|
Van Gaal reacts
Memphis Depay
scored twice and added a valuable stoppage time assist as the Red Devils overcame an early
Michael Carrick
own goal to set themselves up well for next Wednesday's second leg in Belgium.
Lazio 1-0 Bayer Leverkusen
Keita Balde Diao scored in the 77th minute, eight minutes after Bayer had a goal controversially but correctly ruled offside.
BATE Borisov 1-0 Partizan Belgrade
The visitors went down to 10 men after a first half stoppage time red card, and Mikhail Gordeychuk reaped the rewards off a corner kick with a quarter hour to play.
Astana 1-0 APOEL Nicosia
Eleven-times capped Kazakh midfielder Bauryzhan Dzolchiev, 25, scored the lone goal of a close match in the 13th minute.
Sporting Lisbon 2-1 CSKA Moscow
Islam Slimani's 82nd minute goal lifts the Portuguese side into a first leg lead. Seydou Doumbia scored for the visitors. Costa Rican attacker
Bryan Ruiz
had an assist for the victors.
Wednesday's UCL first legs (all at 2:45 p.m. ET)
Valencia vs. Monaco
Basel vs. Maccabi Tel-Aviv
Celtic vs. Malmo
Rapid Wien vs. Shakhtar Donetsk
Skenderbeu vs. GNK Dinamo
NCAAFB;
NLRB ruling: Northwestern players cannot unionize.
By Sam Cooper
As a result of the decision, Northwestern's players will not be able to unionize.
According to Bloomberg
, the NLRB reached a unanimous decision in a 16-page opinion that said granting the players' petition would "not promote uniformity and stability in labor relations." Additionally, the NLRB decided that the ability for Northwestern's players to form a union would alter the "competitive practice" because other teams would have a different set of rules and would not have the ability to collectively bargain.
From Bloomberg
:
Among the board's findings in a unanimous 16-page opinion was that certifying the players' petition "would not promote uniformity and stability in labor relations," and that allowing Northwestern players to bargain with a single employer over policies that apply throughout the National Collegiate Athletic Association would potentially upset the balance of competition.
In what NLRB officials called a "very narrow decision," the board declined to address whether the players are employees at Northwestern and ruled rather on whether granting their petition would serve the purposes of the National Labor Relations Act. Of the 125 football programs in the NCAA's Football Bowl Subdivision, the top echelon, just 17 are private schools and Northwestern is the only one in the Big Ten Conference.
According to the New York Times
, the NLRB did not answer whether or not Northwestern's players are university employees, and said that giving one team the ability to collectively bargain would present conflicts with the NCAA and Big Ten Conference.
Following the ruling, Northwestern vice president for university relations Alan K. Cubbage released a statement on the university's behalf.
Northwestern University is pleased by today's decision issued by the National Labor Relations Board (NLRB), which declined to assert jurisdiction and dismisses a petition filed by the College Athletes Players Association seeking to become the collective bargaining representative of Northwestern University football players who receive grant-in-aid scholarships. Because the NLRB declined to assert jurisdiction in the case and dismissed the petition, the union election held in April 2014 is moot and the votes of Northwestern scholarship football players cast at that time will not be counted.
As the University has stated previously, Northwestern considers its students who participate in NCAA Division I sports, including those who receive athletic scholarships, to be students, first and foremost. We applaud our players for bringing national attention to these important issues, but we believe strongly that unionization and collective bargaining are not the appropriate methods to address the concerns raised by student-athletes. We are pleased that the NLRB has agreed with the University's position.
Northwestern position remains that participation in athletics is part of the overall educational experience for our student-athletes, not a separate activity. Therefore, we intend to continue to work with our students, and others, to address the issues regarding the long-term health impact of playing intercollegiate sports, providing additional grant-in-aid support and providing academic support and opportunities for student-athletes.
The welfare of our student-athletes is paramount here, and we're very proud of that. We are committed to ensuring their health, safety and well-being and that they are provided with every resource possible to grow and develop as well-rounded individuals. We now need to examine these issues nationally to ensure that student-athletes nationally are provided the same opportunities as those at Northwestern.
Wildcats athletic director Jim Phillips and head football coach Pat Fitzgerald were also in favor of the decision.
From Phillips
:
"Our focus is, was, and will continue to be on delivering a world-class experience -- academically, socially and athletically -- every day for each of our 494 student–athletes. Both locally at Northwestern, and broadly as chairman of the NCAA Division I Council, it has been remarkable over the last several years to witness the rapid evolution of college athletics with student-athlete well-being as the top priority.
This outstanding university firmly believes in the paramount importance of the health, safety and well-being of its students and will continue to be a national leader, as it has been over the last several years with guaranteed, four-year, cost-of-attendance scholarships for all 19 varsity teams, extended medical benefits and unparalleled professional development programming."
Added Fitzgerald
:
"Our young men chose to attend Northwestern to compete on the field at the highest level, earn a world-class education and prepare for the rest of their lives. They have displayed maturity beyond their years through this process, and the experience has unquestionably brought us closer together as a football family. This group posted the highest cumulative GPA in program history during the 2014-15 academic year, earned a record 38 Academic All-Big Ten honors last season and is excited to return to the field this fall to play the game they love and compete for a Big Ten championship."
The NCAA, of course, was also in favor of the ruling.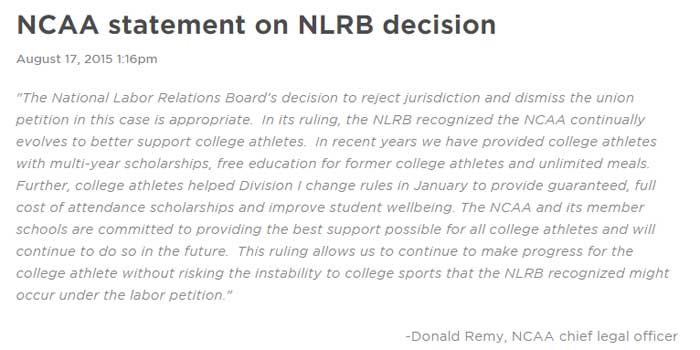 In April 2014, Northwestern's 76 scholarship football players voted on the matter, needing a simple majority for approval. Now with Monday's ruling, those votes "will be destroyed without being counted," according to Bloomberg.
Additionally, Monday morning's decision from the NLRB leaves no room for an appeal.
NCAABKB:
Everything you need to know about the College Hoops Tip-Off Marathon.
As is always the case, the best early-season event this year is, once again, the Champions Classic. It kicks off at 7:30 p.m. ET in the United Center in Chicago with Duke taking on Kentucky, a game that features two preseason top five teams — one of whom is the reigning national champs — squaring off. You shouldn't need me to talk you into this one.
The nightcap of the Champions Classic isn't quite as good, but there is still plenty of intrigue there as well. Kansas, who is coming off a second straight disappointing season, is once again going to enter the season ranked in the top ten, and they'll be squaring off with a Michigan State team that seems to be flying a bit under the radar at this point in the year.
Two games, four top 20 teams, two Hall of Famers and two soon-to-be Hall of Famers.
YOU ALSO NEED TO MAKE SURE YOU SEE
: Monday night's west coast action.
While the highlight of the event is the action late on Tuesday night, Monday night's games are solid as well. It starts with San Diego State's trip up to Utah. The Utes are a legitimate contender in a Pac-12 race that will likely be wide-open this season. They bring back a potential top ten pick in Jakob Poeltl and will surround him with a load of young, talented players and a coach — Larry Krystkowiak — that has proven to be able to develop talent. SDSU likely won't be as good as the Kawhi Leonard years, but they're still an MWC contender with their own future first round pick on the roster in Malik Pope.
That game tips at 9:30 p.m. ET, with Baylor's visit to Oregon immediately following. Oregon will have big shoes to fill with Joe Young graduating, but the return of Dillon Brooks and the addition of Tyler Dorsey will make the Ducks a dangerous team, especially in their own gym. Baylor's guard play will be a red flag next year, but with Rico Gathers anchoring a massive, powerful front line, don't be surprised to see the Bears make a run at being relevant in the Big 12 title race.
And while it might be a blowout, Kennesaw State's visit to LSU will be the first chance for the nation at large to get a look at Ben Simmons, the Australian forward that has a chance to be the No. 1 pick in 2016.
Virginia at George Washington should also be good, but we'll get to that in a minute.
BUT YOU SHOULD BE MAD BECAUSE
: No one will pay attention to Maryland-Georgetown.
First things first: history aside, this has the making of being a terrific basketball game. Maryland will be one of two or three teams — along with North Carolina and Kentucky — that, depending on which poll or website you pay attention to, will enter the season ranked as the No. 1 team in the country. Georgetown will be pretty good as well, as the return of D'Vauntes Smith-Rivera makes them a likely-preseason top 25 team and a contender for the Big East title. No matter how you slice it, this is a really, really good game on paper.
But that doesn't account for the fact that Maryland and Georgetown have campuses that are roughly 10 miles apart, or that the two programs have refused to schedule each other for the last three decades thanks to a beef between legendary coaches Lefty Driesell and John Thompson Jr. that was never resolved. The Big East and the Big Ten made a point to ensure that these two teams would be paired off the in the first annual Gavitt Games because this matchup deserves attention. Instead, with a tip-off at 9:00 p.m. ET on Tuesday night, it will be played at the same time as the Champions Classic, with the first half coinciding with the end of Duke-Kentucky.
This is a matchup deserves to stand on it's own. College basketball is a sport that has limited intrigue while football season is still in full-swing. Burying a game like this in November simply doesn't make sense.
UNDER THE RADAR GAMES
:
There are two that I think qualify here:
The first of the men's games that will be played as an official part of the Tip-Off Marathon features Virginia, a preseason top five team and the two-time ACC regular season champs, making the ride up Route 29 to pay a visit to George Washington. The Colonials took a step back in 2014-15, but their roster was built with an eye towards this season. Kevin Larsen, Joe McDonald and Patrico Garino are all back, Wake Forest transfer Tyler Cavanaugh is eligible and sophomore Yuta Watanabe should be in line for a breakout season. Road games four days into the season are never easy.

Stephen F. Austin vs. Northern Iowa features two well-coached, veteran mid-major ball-clubs, but given what both programs lost for last season, the first game on Tuesday that is a must-watch comes at 10:00 a.m. ET when Valparaiso makes the trip to Kingston to take on URI. Valpo may be the best mid-major in the country this side of Wichita State (are they a mid-major?), while this may be the year that Danny Hurley finally breaks through with the Rams.
Anyway, here is the full schedule of games:
Mon., Nov. 16
5:30 p.m.: UConn at Ohio State (women) ESPN2
7:30 p.m.: Virginia at George Washington ESPN2
9:00 p.m.: Kennesaw State at LSU ESPNU
9:30 p.m.: San Diego State at Utah ESPN2
11:30 p.m.: Baylor at Oregon ESPN2
Tue., Nov. 17
1:45 a.m.: BYU at Long Beach State ESPN2
4:00 a.m.: Nevada at Hawaii ESPN2
6:00 a.m.: Green Bay at East Tennessee State ESPN2
8:00 a.m.: Stephen F. Austin at Northern Iowa ESPN2
10:00 a.m.: Valparaiso at Rhode Island ESPN2
1:00 p.m.: Alabama at Dayton ESPN
3:00 p.m.: Colorado at Auburn ESPN
5:00 p.m.: Oklahoma at Memphis ESPN
7:30 p.m.: Kentucky vs. Duke (Chicago) ESPN
9:00 p.m.: Georgetown at Maryland ESPN2
10:00 p.m.: Kansas vs. Michigan State (Chicago) ESPN
Little League Softball World Series team accused of losing on purpose to knock rivals out of tournament.
By Mike Oz
A scandal has broken out at the Little League Softball World Series, where a team from the state of Washington has been accused of throwing its game on Monday so that a rival team wouldn't advance in the tournament.
"It was very evident when they did the starting lineups, their four best players were on the bench. Their top four hitters were their subs the previous night when we played them. It was very evident right away what was going on ... It took about a half inning for the girls to catch on. We were trying to keep it from them, but you could see when they caught on that the tears started to pile up. It was pretty emotional."
Little League
issued a statement Tuesday morning
, saying it had "received credible reports" that a team had not played with "the effort and spirit appropriate." That statement came after Little League had announced that Washington and Iowa would play a tiebreaker game Tuesday to essentially settle the matter, with the winner advancing to the next round of the tournament. Under
its rules
, Little League could have booted Washington from the tournament if it believed the team had purposely lost to influence pool rankings, but it didn't go that far.
1915
- Braves Field was inaugurated with Boston defeating the St. Louis Cardinals 3-1.

1956 - The Cincinnati Reds and Milwaukee Braves combined for a National League record of 10 home runs. The Reds won 13-4. Bob Thurman (Cincinnati Reds) hit three of the home runs.

1960 - Lew Burdette threw a no-hitter against the Philadelphia Phillies. The final score was 1-0.


1973 - Hank Aaron set a major league record with his 1,378th extra base.
1980 - George Brett of the Kansas City Royals had his batting average reach the .400 mark.

1981 - Herschel Walker of the University of Georgia took out an insurance policy with Lloyd's of London. The all-American was insured for one million dollars.

1982 - The longest baseball game played at Wrigley Field in Chicago, IL, went 21 innings before the Los Angeles Dodgers defeated the Cubs 2-1.

1987 - Earl Campbell announced his retirement from the National Football League (NFL).

1992 - Larry Bird, after 13 years with the Boston Celtics, announced his retirement.

1995 - Tom Henke (St. Louis) became only the seventh major league player to record 300 saves.
1996 - Frank Thomas (Chicago White Sox) became the fourth player to reach 100 RBIs in each of his first six seasons.

1996 - Wade Boggs became the 41st major league player to get 2,000 career singles.
P
lease let us hear your opinion on the above articles and pass them on to any other diehard fans that you think might be interested. But most of all, remember, Chicago

Sports

&

Travel

,

Inc./Allsports

A

m

e

r

i

c

a

wan

ts you!!!!!